It's almost impossible to begin a quest for new laundry detergent without coming across the Persil brand. 
Persil has been around for many decades and has amassed a plethora of faithful audiences for its powerful cleaning capabilities.
Given that so many laundry detergents exist out there in the market, it can be difficult to know if Persil is truly the best choice for your laundry needs.
In this article, we will take a closer look at the ingredients, features and benefits of Persil laundry detergent to help you determine if it is the right fit for you.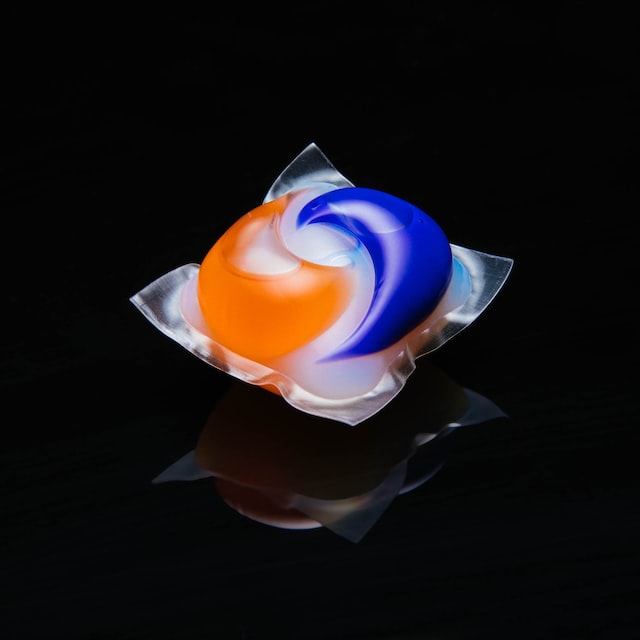 What is persil detergent?
Persil is a century old detergent introduced in the year 1907. 
It is produced and marketed by the German company Henkel or the British company Unilever, depending on the geographical region. The latter serves a few countries including the United Kingdom, France, China and Australia whereas the former serves the rest of the world. 
Persil is made in a variety of forms such as capsules (a.k.a Laundry pods), liquid, bar, powder and tablets and in different scents such as lavender, citrus and aloe, and the availability of these forms and scents to customers depends wholly on the geographical region Persil is serving. 
The United states for example, has persil detergent distributed only in its liquid form under the line Persil ProClean. 
There is also the sensitive line which is specially formulated for people with sensitive skin and is free from dyes and perfumes.
Persil detergents are so versatile and are compatible with modern HE machines as well as the traditional top and front loaders. The pods, tablets, and liquid detergents are actually convenient for use in automatic washers whereas the powdered form can be used both in top loaders as well as in hand laundry. 
Persil works great with a wide variety of fabrics also (from colored to white) helping them maintain their colors while keeping them well scented.
What does persil contain?
The Ingredients in Persil liquid laundry detergent can vary based on product line as well as the country in which it is sold. 
However, some of the common ingredients you can find in Persil detergents include:
Water
Sodium Laureth Sulfate: a surfactant that helps to remove dirt and stains from clothes
Propylene Glycol: a solvent just like water
Sodium Lauryl Sulfate: a surfactant that helps to remove dirt and stains from clothes
Sodium Metaborate: a stabilizer
Sodium Chloride: a thickener and stabilizer
Sodium Carbonate: a water softener and pH adjuster
Sodium Percarbonate: an oxygen-based bleaching agent that helps to remove tough stains and brighten whites
Sodium Polyacrylate: a thickener and stabilizer
Sodium Silicate: a pH adjuster and water softener
Enzymes: such as protease, pectate lyase, mananase and amylase, which help to break down and remove stains
Fragrance: to add a pleasant scent to the detergent
Optical Brighteners: to enhance the whiteness and brightness of clothes
The ingredient list above isn't exhaustive and cannot be generalized for all Persil products. 
To get a better idea of what your particular persil contains, read the label on the packaging, visit the Persil's website for the specific line or contact a third party website (like Smart Label) that keeps track of the ingredients list on various products such as Persil.
The careful and proportionate combination of these ingredients is what helps to effectively remove dirt and stains from clothes, leaving them pristine and smelling fresh.
But even at that, some of the ingredients in Persil detergent can still pose an allergy threat if they come into contact with the skin, especially for sensitive people. 
The ingredients commonly responsible for triggering allergy in sensitive people include enzymes, optical brighteners, and fragrances. 
That's why It's extremely important to always read and follow the instructions on the label and If you have sensitive skin, it's a good idea to do a patch test before using the detergent to wash your clothes. That way, you'll save yourself a day (or more) of persistent pain.
Is persil laundry detergent toxic?
Formerly, Persil used to contain phosphates which served as a water softener and laundry booster. But because of the concerns about the impact of phosphates on aquatic life, Persil has since removed phosphate from their products.
However, Persil, especially the ProClean brand contains other ingredients that can still be toxic to freshwater ecosystems and can contribute to the pollution of water bodies just as many detergents do. 
Additionally, Persil's packaging can also be harmful to the environment if not properly disposed of. 
This is why it is important to read and follow the instructions on Persil Products for use and disposal of the detergent in order to minimize potential environmental impacts.
What more is persil doing?
Persil has invested heavily in trying to ensure their detergents are now safe to use by humans and pose no threat to the environment and the things it contains. 
Some of these investments include the initiation of several eco and skin friendly detergents such as Persil Bio, Non-bio and Colour detergents that offer smaller bottles which reduce the amount of plastic waste released into the environment, recyclable containers, dermatologically tested products (the non-bio) designed to be gentle next to the skin, and biodegradable stain removers that are designed to break down naturally in the environment rather than remaining as a persistent pollutant.
Is persil laundry detergent cruelty free?
Persil clearly states on their website that they have no scheme that conducts animal testing to verify or assess the safety of their products. So all we have is their word for that. 
Does persil remove everyday soiling on clothes?
Yes, Persil is a high-performance laundry detergent and has a tough action that aids in the efficient removal of a wide rage of stains from dirt to grass, oil to blood and other common household stains.
Many feedback from customers state that Persil works well on a variety of stains, and leaves clothes smelling fresh and clean. But a lot of users are quick to also point out one problem — Persil's abrasiveness towards delicate peices like silk, although this is more of a customer fault than "product fault" as the use of an unsuitable product (clearly labeled so) for a delicate material is more than likely to cause problems in any given situation. 
Persil specifically has a line of detergent called "Persil delicate" which is meant for cleaning delicate clothing such as wool and silk, so using the more heavy duty cleaner varieties increases the likelihood of abrasion on fibers. 
Persil's superb cleaning ability is all thanks to the powerful concoction of cleaning agents and enzymes that help break down stains and ensure they are fully isolated from clothes till rinsing.
That being said, it's good to note that how effective a detergent turns out depends on other factors too such as the type of stain, the water temperature, and the amount of detergent used. Additionally, what works for one person may not work for another, as everyone's laundry scenarios are different.
It's also worth noting that pre-treatment of stains before washing is a good practice and it can increase the chances of stain removal.
Which persil detergent works best?
When it comes to which persil detergent works best, there are a lot to triumph in the category. Generally speaking, all Persil detergents contain nearly similar ingredients that work effectively to banish stains from clothes, so they are all effective at performing that one job they do. 
But when it comes to which one does it best, or slightly better, i'll have to give it to the Persil lines that specifically target stain removal such as the Persil ProClean oxi Power, Persil ProClean Stan Fighter, Persil Bio Cleaner. They are specifically formulated with extra technology to make sure that even tough and aged stains become easy work for them. 
One more thing I must say.
The idea of which persil line works best would actually depend on the specific cleaning needs and preferences of a customer. 
Is it a sensitive detergent you're after because of the delicate nature of your skin? There's a line specifically targeted for that which works great to prevent allergic reactions on people that come into contact with the detergent! Do you need a gentle detergent for your delicate wool or silk clothing? Go with the Persil Silk and Wool detergent. 
The thing is, Persil offers a variety of detergent options, including stain removers, bio, non-bio, color protector and delicate wash which come in liquid, powder, and capsules, and each having different formulations and features. 
It is best to read the product descriptions and ingredient lists to determine which detergent would work best for your laundry needs. Additionally, you can always check the customer reviews and ratings to get an idea of how well the product works for other users.
For a quick overview, here are the lists of the popular persil detergent variants across Europe, Asia and North America should in case you're interested in knowing. 
Persil Proclean: 
Persil ProClean is Persil's detergent for the audience in the United States.
It comes in a liquid form and is marketed as a powerful cleaner for tough to remove stains which is meant to be used in both standard and high-efficiency washing machines. 
Persil ProClean is loaded with a concoction of stain cleaners which makes it very effective at removing soiling and stains from clothes. 
It comes in many variants including the fresh scents, stain fighting detergents, sensitive skin and odor fighter. 
In Europe, Persil detergents are much different in terms of their makeup and packaging and they exist in much varied forms such as powdered, bar, gel, and even tablets. 
Some of the popular lines of the detergent include: 
Persil Colour: A detergent specifically formulated to protect and maintain the color of clothes.
Persil Eco: An eco-friendly detergent option that is biodegradable and free from dyes and phosphates.
Persil Sensitive or Non-Bio: a laundry detergent made with a dye free, enzyme free and fragrance free formula intended to be gentle next to the skin. It is meant for people that are sensitive which is why it is hypoallergenic and dermatologist-tested.
It is important to note that the availability of these products may vary from country to country.
Which persil smells best?
Persil detergent also comes in a variety of scents including aloe, lemon and the original scent which can be described as having subtle notes of flowers, all to provide a wide range of choice for customers. 
Because people are different and perceive and smell things a bit differently, what smells great for one may not necessarily be the case for another. So i cant really say "which persil detergent smells best"
But overall, I can say that Persil, whichever you go with, does have a nice sweet aroma that It leaves on clothes which I think you'd love.
If you want the scent left on your clothes to be a bit more fine tuned, ditch the classic scent of the original and go for a more fresh and citrus scent of lemon, or a soothing and calming scent of lavender or aloe.
One great suggestion too is to check the scent or fragrance of the detergent before you buy it, and make sure to check customer reviews and ratings too to get an idea of how well the fragrance of the product is perceived by other users.
Does persil fade clothes?
Not really. See, every detergent out there does have the potential to fade clothes with time, and also if used frequently or in high concentrations.
Factors such as water temperature, agitation, and the type of fabric can also affect fading. 
This is why it is recommended to always follow the instructions on the detergent packaging and to test a small area of a garment before washing it in case you're afraid of fading.
Is persil good for dark clothes?
Don't worry about your darks fading when you use persil, so long as you use it as recommended, the wash temperature is cold and the agitation is light, although i still recommend using detergents specifically formulated for preserving the intensity of darks when dealing with them, for example, Woolite dark. 
When using persil for dark clothes, it is always a good idea to check the care label on your clothing and follow the manufacturer's recommendations. 
Is persil detergent good for sensitive skin?
Some ingredient of Persil (especially the Eco and ProClean Line) do contain ingredients that can be potentially harmful if they come into contact with the skin, especially for sensitive people. 
These ingredients typically include enzymes, optical brighteners, and fragrances.
Because of that, Persil offers a line of detergent specifically formulated for sensitive skin called Persil non-bio, or the Persil ProClean Free & Sensitive.
This line is formulated to be gentle on the skin, by making it free from dyes, from enzymes and fragrance or perfumes. At the same time also, Persil sensitive does a great job at effectively cleaning stains and soil from clothes.
Is persil laundry detergent high efficiency?
There are both regular and HE versions of Persil, and for all detergents in the Persil ProClean line, they are HE compatible, and you can easily tell from the little "he" symbol imprinted on the packaging.
All Persil HE detergents can be used in front-loading and high-efficiency washing machines (which use less water than traditional machines).