Sun detergent is a popular brand of laundry detergent that has been around for many years. 
However, in recent months, some consumers have reported difficulty finding the product on store shelves. This has led to speculation that Sun may have discontinued the product.
But how true is this speculation? And why are certain sun detergent lines hard to find on the market shelves?
In this article, we will take a closer look at the rumors about Sun detergent being discontinued and explore sun detergent lines that have actually been discontinued (if any).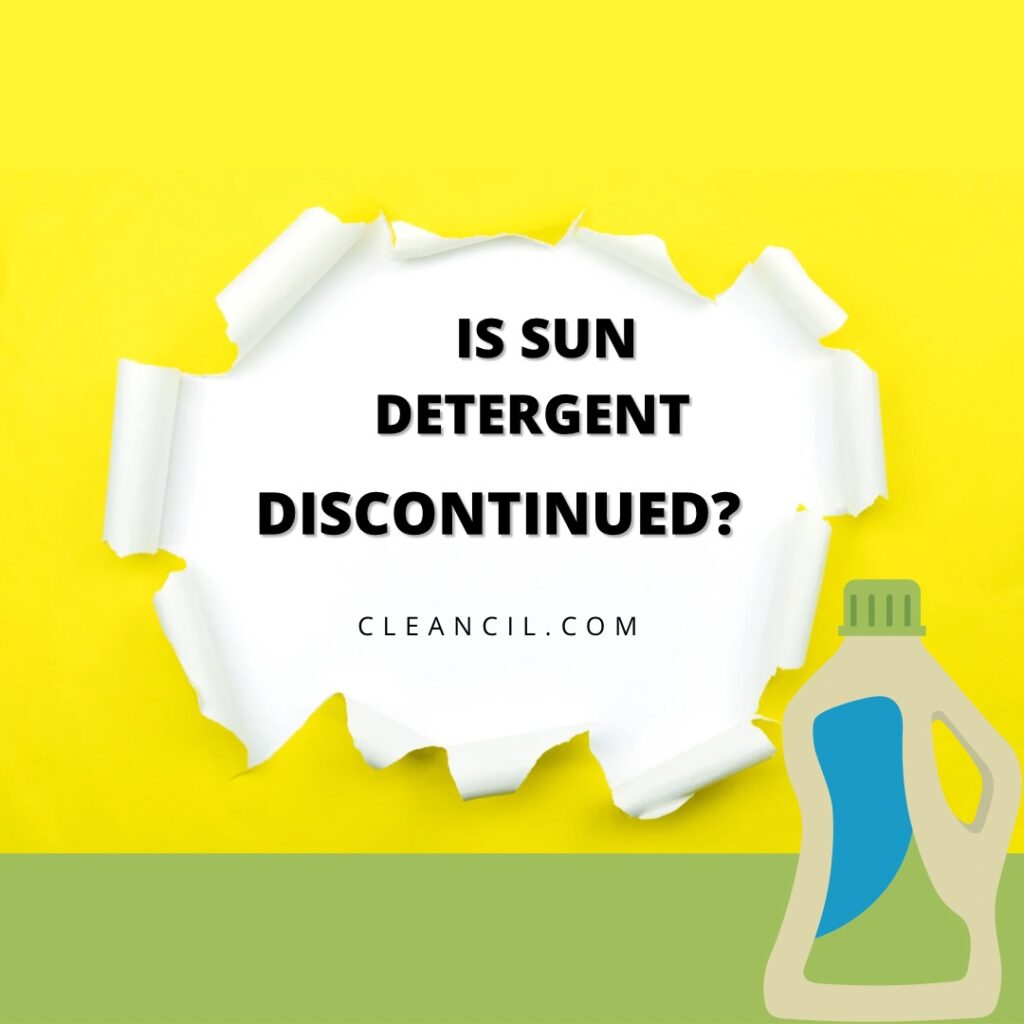 Sun Detergents: The Ones We've Loved and Lost
Over the years, Sun has offered a variety of laundry detergents that have become popular among consumers for their cleaning power and fresh scents.
However, not all of them have stood the test of time.
Below, we take a look back at some Sun detergent favorites that have been discontinued over the years.
Sun Detergents That Have Been Discontinued
Sun Triple Action Free & Clear Laundry Detergent
A go-to choice for those with sensitive skin or allergies, Sun Triple Action Free & Clear provided powerful cleaning without any added fragrances or dyes. This gentle formula made it an ideal option for households looking to keep irritants at bay while still maintaining spotless laundry.
Sun Mountain Fresh Powder Detergent
This powder detergent was celebrated for its crisp, refreshing scent reminiscent of the great outdoors. Sun's Mountain Fresh Powder combined powerful stain-fighting enzymes with a lovely fragrance that left clothes smelling and feeling fresh.
Sun Ultra Laundry Soap
Finally, we bid adieu to the reliable Sun Ultra Laundry Soap – a classic option for tackling stubborn stains on your favorite garments. This concentrated formula promised to deliver exceptional results with only a small amount required per load.
While these old favorites may no longer be gracing our shelves, there are always new innovation by Henkel (The company behind sun detergents) which you might like even better than what they have discontinued.
Why Did Henkel Discontinue These Products?
Here's what we know about Sun detergent's product discontinuation decisions.
Adjusting to Market Demands
One primary reason behind the discontinuation of certain Sun detergent products (like the Ultra Laundry Soap) was the need to adapt to market demands and evolving consumer preferences. As preferences shifted towards eco-friendly options and new cleaning technologies emerged, Sun needed to revamp its product line accordingly. By phasing out older formulas and introducing improved versions that meet consumers' needs better, the brand aimed to stay competitive in a constantly changing market.
Outdoing Competition
The laundry detergents industry is a highly competitive space with numerous brands vying for consumer loyalty. To remain relevant and maintain its position on store shelves, Sun detergent had to streamline its offerings by discontinuing less popular or less effective products (the latter for the case of the oxy free and clear) . This move allowed the brand to focus on producing more innovative solutions that would appeal to a wider audience.
Production Cost Considerations
Another reason behind Sun detergent's discontinuation of certain products is the cost associated with their production. It's not uncommon for companies to reevaluate their manufacturing process regularly, determining which items are proving too expensive or inefficient to produce. Discontinuing those products can help cut costs while making room for newer, more scalable alternatives.
While it's unfortunate that some favorite Sun detergent products have been discontinued, it's important to remember that change is necessary for businesses to grow and adapt. Don't worry; there are still plenty of effective options out there from both Sun itself and other brands alike – all designed with your laundry needs in mind.
What Are The Current Lines Of Sun Detergents?
When it comes to keeping your clothes bright, fresh and clean, Sun Detergents has got you covered.
With a variety of fragrances and cleaning properties, there's a Sun Detergent to suit every laundry need.
Here's a quick overview of the extensive lineup.
Sun Clean Fresh Powder Detergent: Enjoy the essence of classic freshness with this powerful powder detergent. Ideal for everyday laundry needs, it'll leave your clothes smelling clean and renewed.
Sun Triple Clean Summer Escape Liquid Detergent: Can't get enough of summertime? This detergent will transport your senses with its invigorating scent while providing triple-cleaning power to tackle tough stains.
Sun Triple Clean Clean & Fresh Liquid Detergent: Experience the ultimate balance of cleanliness with this liquid detergent that promises to effectively remove stains while leaving behind a pleasantly fresh aroma.
Sun Triple Clean Tropical Breeze Liquid Detergent: Turn laundry day into a mini-vacation with an enticing tropical fragrance that will make you feel like you're lounging on an island paradise.
Sun Triple Clean Original Fresh Plus OXI Liquid Detergent: Boost your cleaning power with this detergent that combines original freshness and advanced OXI stain removal for unbeatable results.
Sun Triple Clean Fresh Morning Breeze Liquid Detergent: Start your day off right with this morning-inspired scent that brings a touch of freshness and sunshine to every load.
Sun Triple Clean Bahama Breeze Liquid Detergent: Dreaming of sandy beaches and palm trees? Look no further than this detergent which captures the essence of Bahama Breeze, making every wash feel like an exotic escape.
Sun Triple Clean Lavender Bliss Liquid Detergent: Unwind after a long day with the soothing scent of lavender as it works its magic cleaning your clothes and calming your senses.
Sun Triple Clean Hawaiian Oasis Liquid Detergent: Bring the spirit of Hawaii into your laundry room with this fragrant detergent inspired by island blooms and tropical scents.
Where To Buy Sun Detergent?
Thankfully, finding Sun Detergent is a breeze. It's widely available at a variety of retailers, both in-store and online. Here are some popular places to pick up your next bottle:
Supermarkets: Your local grocery store usually stocks Sun Detergent on their laundry aisles. Keep an eye out for it on your next shopping trip at supermarkets like Walmart, Target, Kroger, Publix, Safeway, or Albertsons.
Discount Stores: On the hunt for a great deal? Check out discount stores like Dollar General or Family Dollar to snag Sun Detergent at unbeatable prices.
Online Retailers: Prefer shopping from the comfort of your own home? Visit websites like Amazon or Walmart.com to order Sun Detergent with just a few clicks and have it conveniently delivered right to your doorstep.
Bulk Stores: If you're all about buying in bulk to save money and time, stores like Costco or Sam's Club often carry large quantities of Sun Detergent at competitive prices.
Pro Tip: Keep an eye out for coupons or promotional offers in newspapers, online forums, and store apps to score even bigger savings on your favorite Sun Detergent.
Sun Products Website
Main Website:
Parent Company Website: