Listen, the woolite brand has been around for decades, and it's certainly older than you. Yes, you reading this article — because I highly doubt a 70 year old grandma would be surfing the internet at this time of the night, trying to figure out whether or not woolite is a laundry detergent.
If you are indeed 70, then where in the dark expanse of this universe have you stuck your head for all these years to not have know that woolite is one of the leading brands of laundry detergent?
Anyways, this article is an enlightenment for all. It'll discuss what woolite detergent is, what it's meant for, the different lines that it comes in as well as how it can be used to clean clothes in the laundry.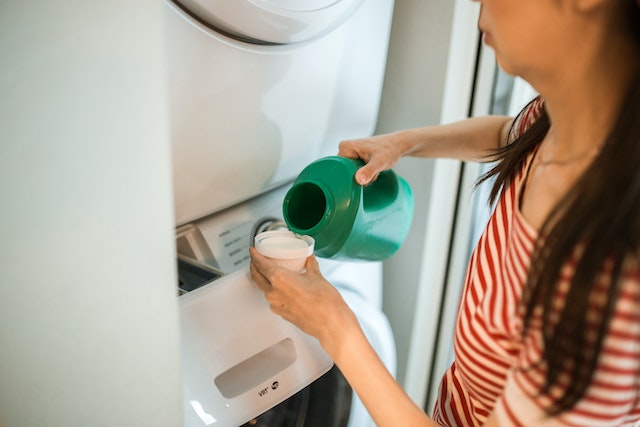 What is Woolite?
Woolite is a brand of laundry detergent that has been around for over 70 years. It is mostly recognised for its gentle cleaning action which makes it suitable for washing really delicate fabrics such as wool and silk. 
In fact, that was how woolite started in the 1950's — as a hand washing detergent meant for cleaning delicates such as wool, silk and nylon while offering them protection against stretching, fading and shrinking. 
Over the years, woolite expanded into other laundry niches to cater for other types of fabrics as well as applications. 
That led to the birth of different lines of detergent from woolite such as the Woolite Clean & Care meant for use on everyday fabrics which helps to keep their colors and flexibility intact even after many washes, Woolite Darks meant for use in dark clothes such as black clothes and denim jeans which helps to preserve their intensity for over 30 washes, Woolite Baby meant for washing 
In as much as woolite is gentle, it is also well formulated with ingredients that offer effective stain and dirt removal. Woolite detergents are also HE compatible which means they can be used in both traditional and HE washers. They typically come in liquid forms but PACS also exist in some markets. 
What is in woolite laundry detergent?
As expected, all woolite detergents (with the exception of the PACS) are free from bleach and enzymes— which work great to banish odor and stains but can tamper with the integrity of a fabric. 
Woolite laundry detergents contain a perfect balance of gentle chemical concoctions to present a liquid that does wonders against dirt and stains while maintaining the integrity, color, and flex of a fabric. 
The Ingredients in Woolite detergent could vary based on the line, however, there are common ingredients that can be found across all detergents which include: 
Surfactants (such as Sodium (C10-16) Alkyl Benzenesulfonate, TEA Cocoate and Sodium Laureth Sulfate) whose primary work is to help remove dirt and stains from fabric.
Fragrances such as Hexyl Salicylate and Dipropylene Glycol which helps to add a fresh layer of scent to fabrics. Water: Most detergents are composed mostly of water.
Preservatives such as BHT, Benzisothiazolinone and Methylisothiazolinone which help to protect the product form bacteria during transit and storage.
Dye binder which helps to bind to dye molecules that may come off from colored fabrics before they have the chance to settle on another fabric in the washer. 
Boosters like Citric Acid which helps to boost cleaning action. 
PH adjuster which helps to control the pH level of the product to ensure everything is stable and cleaning is effective and efficient. 
Polyvinyl Alcohol which is the outer casing that pods are packed into. 
Dyes which help to add color to the detergent. 
The above may not constitute an exhaustive list of all the ingredients you can find in woolite, and for that specifically, it's best to check the label of the specific product you have with you.
What kind of detergent is woolite?
There are many ways to attempt to answer this question, but let's begin with gentility. 
Is woolite a gentle detergent?
Woolite certainly is a gentle detergent as it does not contain harsh ingredients that normal detergents have which causes clothes to fade faster, fibers to break down easier and stretching to occur. 
For this reason, woolite is best for even delicate fabrics such as wool, silk and cashmere. 
In addition, woolite, with the exception of PACS, is not a biological detergent because it does not contain enzymes which help to break down protein based stains such as blood. 
Woolite instead, uses surfactant technology (alongside other cleaning ingredients) to achieve efficient and effective stain and dirt removal. 
Also, woolite detergent is considered to be a neutral detergent owing to the fact that it contains pH adjusting ingredients such as Triethanolamine which helps to keep the pH at a balanced level for stability of the product. 
Woolite also doesn't have bleaching agents or other strong additives like optical brighteners that would provide extra features other than what is expected of a normal laundry detergent, which makes it neutral. 
What are the different types of woolite detergent?
Woolite offers different lines of detergents each formulated a certain way to achieve a desired application such as gentle cleaning, color preservation, sensitive wash etc. 
Some of the detergents that woolite offers include:
Woolite Darks or Dark Defense: 
Woolite Darks or Dark Defense is a laundry detergent from Woolite that is meant to preserve the intensity of dark clothes (like denim) for a very long time. Woolite darks are available in both pacs and liquid form. 
Woolite Clean & Care: 
The Woolite Clean & Care is Woolite's detergent meant for use on everyday garments – promising to deliver great cleaning experience as well as to preserve the shape, color and flex of the garments. It is available in both PACS and liquid form. 
Woolite Delicates: 
Woolite delicates is specifically formulated with gentle ingredients to make hand washing of clothes possible. It is meant for use on delicate fabrics such as wool, lace, silk and cashmere.
Woolite Baby: 
Woolite baby is a laundry detergent meant for use on baby clothes. 
Woolite All Clothes Laundry Detergent:
Woolite All Clothes Laundry Detergent is just another variant of the Clean & Care sold in a different market — Canada. It does the same thing as the Clean & Care line.
The Woolite Dry Care is an at-home dry cleaner meant for cleaning clothes at home without the need for the services of a dry cleaners. It consists of a sheet that contains cleaning agents which vaporize and get absorbed into fibers to remove stains. 
These are some examples of the different types of Woolite detergents available in the market, the availability of these products might vary based on region.
Is woolite a good detergent?
Woolite detergent does keep to the promises it make regarding cleaning of fabrics as well as preserving their integrity. 
Woolite darks work great for keeping dark clothes looking darker for a lengthy duration of time as opposed to when a normal laundry detergent is used such as Persil. 
Using woolite also prevents fading of clothes faster than when using normal detergents, and doesn't stretch or shrink them the way normal laundry detergent does. 
How do you wash clothes with woolite?
Washing clothes with woolite detergent is pretty much the same as washing them with regular detergents. First, make sure to sort the clothes based on color and fabric type. Check to make sure that the clothes are machine or hand washable to begin with. 
After sorting, fill the washer with cold or warm water depending on the instructions of the laundry loads, then add the detergent into the detergent dispenser or manually using directives from the product label, or, if using PAC, place the appropriate quantity into a loaded washer as per manufacturer's instructions. 
Run a wash cycle and a rinse cycle. Use a fabric softener if you like during the rinse cycle to make your clothes feel softer and have less static build up. 
Tumble dry the garments if the label allows for such or hang (or lay them outside) to dry. 
Do you use woolite with regular detergent?
There is absolutely no need to use woolite with a regular detergent because woolite itself is a laundry detergent good enough to get the job done for you. 
Woolite has the added bonus of being gentle on your fabrics which help them better preserve colors and even shape. Other detergents might be harsh and cause fading over time.