Tide Free and Gentle has become a go-to laundry detergent choice for those with sensitive skin, thanks to its dye-free, fragrance-free and hypoallergenic formula. However, whispers of its discontinuation have left many wondering if it's time to search for an alternative.
In this article, we'll dive into the rumors swirling around Tide Free and Gentle's possible farewell.
We'll examine the reasons behind such a decision (if it's true) and offer up some worthy alternative laundry detergents to consider.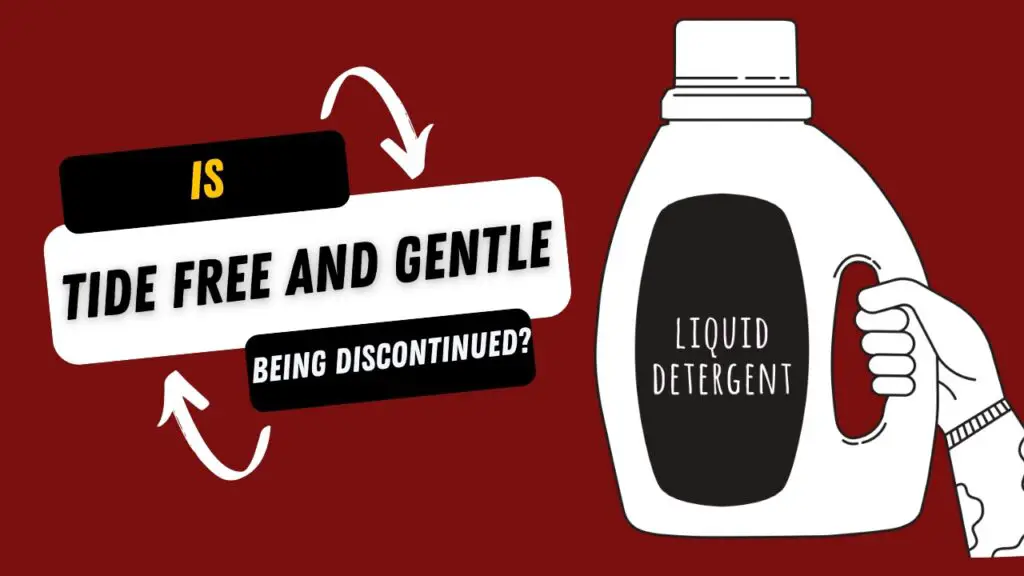 Is Tide Free and Gentle Laundry Detergent Gone for Good?
With numerous laundry detergents on the market, it's important to find the one that works best for your needs.
For some, Tide Free and Gentle has been a go-to choice, particularly for those with sensitive skin or allergies.
So, if you've noticed a lack of the powdered version on shelves recently, you might be wondering if it's been discontinued.
The truth is, yes; Tide has decided to discontinue their Free and Gentle laundry detergent in the powdered form.
However, the liquid version of this detergent is still very much available! The decision was made to better focus on meeting consumer preferences and streamline their product offerings.
While it might be disappointing for fans of the powdered form, rest assured that Tide remains committed to providing a gentle and effective laundry solution with its liquid option.
The liquid Free and Gentle detergent offers the same hypoallergenic benefits as its powdered counterpart – free from dyes and perfumes while being tough on dirt and stains.
What Tide Laundry Detergents Have Been Discontinued?
It's always disheartening when a beloved household product gets discontinued.
Here, we've compiled a shortlist of Tide laundry detergents that have been taken off the shelves, leaving loyal users looking for alternatives.
Tide Free And Gentle Powder – As of 10/05/2021, this popular detergent has been pulled from the market. Don't be worried though; Rockin' Green Hard Rock is a worthy alternative that delivers similar gentle and effective cleaning power.
Tide Ultra Plus Bleach Laundry Detergent – This powder detergent was well-loved for its original scent and extra whitening power, but it's no longer available. Time to search for a new go-to bleach detergent!
Oxi Multi-Purpose Stain Remover – With its fresh scent and versatile stain-fighting abilities, this 7.12lb tub was once a staple in many households. Unfortunately, it too has been discontinued.
Simply Clean & Fresh Laundry Detergent, Daybreak Fresh – This 138oz bottle provided ample cleaning power at an affordable price but has since seen its last days on the market.
Tide Pods, Febreze Botanical Rain Scent, 54 Pods: These detergent pods combined the cleaning power of Tide with the delightful scent of Febreze to provide an enchanting laundry experience.
Tide Simply Clean & Fresh Laundry Detergent, Refreshing Breeze, 138 Oz Bottle: Known for its straightforward and effective cleaning power, the Refreshing Breeze variant is sadly no longer around.
Tide Coldwater Liquid Laundry Detergent, Fresh Scent, 50oz Bottle: Designed specifically for use in cold water washes to save energy and reduce fading over time; unfortunate news that it's no longer available.
Tide Touch of Downy Liquid Laundry Detergent, Clean Breeze, 50oz Bottle: Featuring a blend of two well-loved brands – Tide and Downy – this detergent offered both cleaning prowess and fabric softening benefits.
Tide Pods, Spring Meadow 40 pack: Infused with the pleasant aroma of fresh-cut grass and blooming flowers in springtime; these tiny powerhouses are now part of the discontinued club.
Powder Laundry Detergent, Original Scent, 143 Oz Box: A staple for many households, this original-scent powder detergent is no longer on the shelves.
To-Go Stain Eraser – Liquid, Pad – 9: These portable stain erasers were perfect for tackling on-the-spot spills and accidents but are now difficult to find.
Laundry Detergent with Bleach, Original, 100 Oz Bottle: This powerful bleach-infused formula made light work of stubborn stains but has since been discontinued.
Ultra Powder Laundry Detergent, Original Scent, 10.6Lb Box: This extra-large box of powdered detergent was an economical choice for many families but is now a rarity.
Laundry Detergent with Hydrogen Peroxide, 26 oz: This oxygen-based stain remover was once a popular option but is no longer in production.
Pods, Original Scent, 72 / pack: The convenience and pre-measured dosage of Tide pods may still be available in various count packages; however, this specific 72-pack size has been retired.
Hygienic Clean Heavy Duty Pods – Original Scent (48 / Pack – Blue)
These practical and efficient heavy-duty pods were once the top choice for getting rid of stubborn stains while handling your laundry with care. Sadly, they have been taken off the shelves.
Free & Gentle Liquid Laundry Detergent (107 Loads, 154 Oz Pump Bottle)
Tide's Free & Gentle formula was specifically designed for folks with sensitive skin and allergies. It's disappointing to see this beloved hypoallergenic option go as well.
HE Laundry Detergent – Original Scent (107 Loads, 154 Oz Pump Bottle)
This High-Efficiency laundry detergent was compatible with both regular and high-efficiency washing machines; however, it has also been discontinued.
Simply Pods Plus Oxi Laundry Detergent – Fresh Scent (55 / tub)
These convenient pods combined the power of Oxi stain removers with a refreshing scent for an effective, easy-to-use laundry solution. It's a bummer that this versatile product is no longer available.
Why Did Tide Discontinue These Products?
Let's explore a few of the most likely reasons behind Tide's decision to discontinue certain products based on the company's trait over the years.
Shifting Consumer Preferences: As lifestyles evolve and new trends emerge, consumers' preferences tend to change as well. Brands like Tide need to keep up with these preferences in order to maintain their market share. Discontinuing products that no longer resonate with modern consumers opens the door for innovation and the introduction of more in-demand items.
Streamlining the Product Line: Brands often review their product lines to ensure they are offering the best possible selection for their customers without overwhelming them with options. In some cases, this means discontinuing underperforming or redundant items in favor of focusing on top-sellers and new formulations that better serve consumers' needs.
Regulatory Changes: Sometimes, changes in regulations or guidelines can necessitate the phasing out of certain products. This could be due to stricter environmental standards or newly discovered safety concerns surrounding certain ingredients or packaging materials.
Supply Chain Issues: Disruptions in the supply chain may impact a brand's ability to source necessary ingredients or components for their products at reasonable prices or in sufficient quantities. In such cases, discontinuing affected products may be a necessary business decision.
Technological Advancements: As technology advances, it creates opportunities for brands like Tide to improve their existing formulas and develop new ones that offer better performance and value for consumers. Consequently, older products may be phased out as they become outdated or less effective by comparison.
What Detergents Does Tide Currently Offer?
Tide Power PODS® – These compact powerhouses pack a punch when it comes to tackling tough stains and delivering an exceptional clean. Ideal for large loads or heavily soiled garments, you'll enjoy long-lasting freshness with every wash.
Tide Hygienic Clean Heavy Duty 10X Free Liquid Laundry Detergent – Designed to provide a deep, hygienic clean on even the dirtiest of clothes, this powerful detergent is free from dyes and perfumes, making it gentle on sensitive skin.
Tide Simply PODS® Plus Oxi Boost + Odor Defense Liquid Laundry Detergent Pacs – These convenient pacs combine the stain-fighting power of Oxi Boost with an odor defense system that keeps your clothes smelling fresh all day long.
Studio by Tide Delicates – When caring for delicate fabrics like silk or lace, trust Studio by Tide Delicates to deliver a gentle wash that protects colors and preserves fabric integrity.
Tide Zero Soft Lavender Liquid Laundry Detergent – This eco-friendly detergent utilizes plant-based surfactants for an effective yet gentle clean, infused with a soothing lavender scent that will leave your clothes smelling fantastic.
Tide Ultra OXI Power PODS® with Odor Eliminators – Specially designed to combat stubborn stains and unpleasant odors, these Power PODS ensure that both whites and colors come out looking bright and smelling amazing.
Tide Simply Plus Bleach Alternative Liquid Laundry Detergent – This bleach alternative detergent offers an effective way to keep your whites looking bright without the harshness of traditional bleach, all while keeping colors vibrant.
Tide continuously innovates and expands its product lineup to cater to diverse laundry needs. To discover more about Tide's range of detergent offerings, visit their website at https://tide.com/en-us/shop.
Where To Buy Tide Products?
Supermarkets and Grocery Stores: Your local supermarket or grocery store is an excellent place to find a variety of Tide products. These stores typically carry the popular Tide liquid laundry detergent, Tide Pods, and other essentials like fabric softeners and stain removers.
Big-Box Retailers: Large chain retail stores like Walmart, Target, and Costco also offer an extensive selection of Tide's lineup. Shopping at these big-box retailers often means access to bulk sizes at discounted prices, making it easy to stock up on your favorites.
Online Retailers: The convenience of online shopping has made it a breeze to purchase Tide products from the comfort of your home. Websites such as Amazon, Walmart.com, and Target.com all offer various Tide options that can be shipped directly to your doorstep.
Drugstores: Don't forget about your neighborhood drugstore like Walgreens or CVS. These stores often carry smaller quantities of Tide products for those quick laundry emergencies or last-minute needs.
Specialty Cleaning Stores: Finally, some specialty cleaning supply stores might stock harder-to-find or niche items from the Tide family, including specific formulations targeted towards certain types of stains or fabrics.